ACCORDING TO THE WORLD HEALTH ORGANIZATION, 1.1 BILLION OF ADOLESCENTS AND YOUNG ADULTS ARE AT RISK OF HEARING LOSS
10/10 PEOPLE SURVEYED SAID THAT THEY HAVE ENCOUNTERED LITTLE TO NO AWARENESS FOR HEARING LOSS AMONG YOUNG PEOPLE
SURVEY OF 10 PEOPLE IN MARCH, 2020



THE SOLUTION HAS TWO PARTS. IT IS A CAMPAIGN WHICH SPEAKS TO THE DESIRED DEMOGRAPHIC IN NOT ONLY THE TONE OF VOICE, BUT ALSO THE OVERALL IDENTITY. IT HAS A SET OF POSTERS AND ALSO A DIGITAL INTERACTIVE AWARENESS CAMPAIGN THAT LINKS BACK TO THE POSTERS.
PART 1:


THE FIRST PART OF THE AWARENESS CAMPAIGN WAS TO CREATE A POSTER SERIES REFLECTING ON THE DIFFERENT ASPECTS OF HEARING LOSS. THESE TWO POSTERS BRING AWARENESS TO TINNITUS AND THE EFFECTS OF LISTENENING TO MUSIC WITH THE VOLUME TOO LOUD ON HEADPHONES.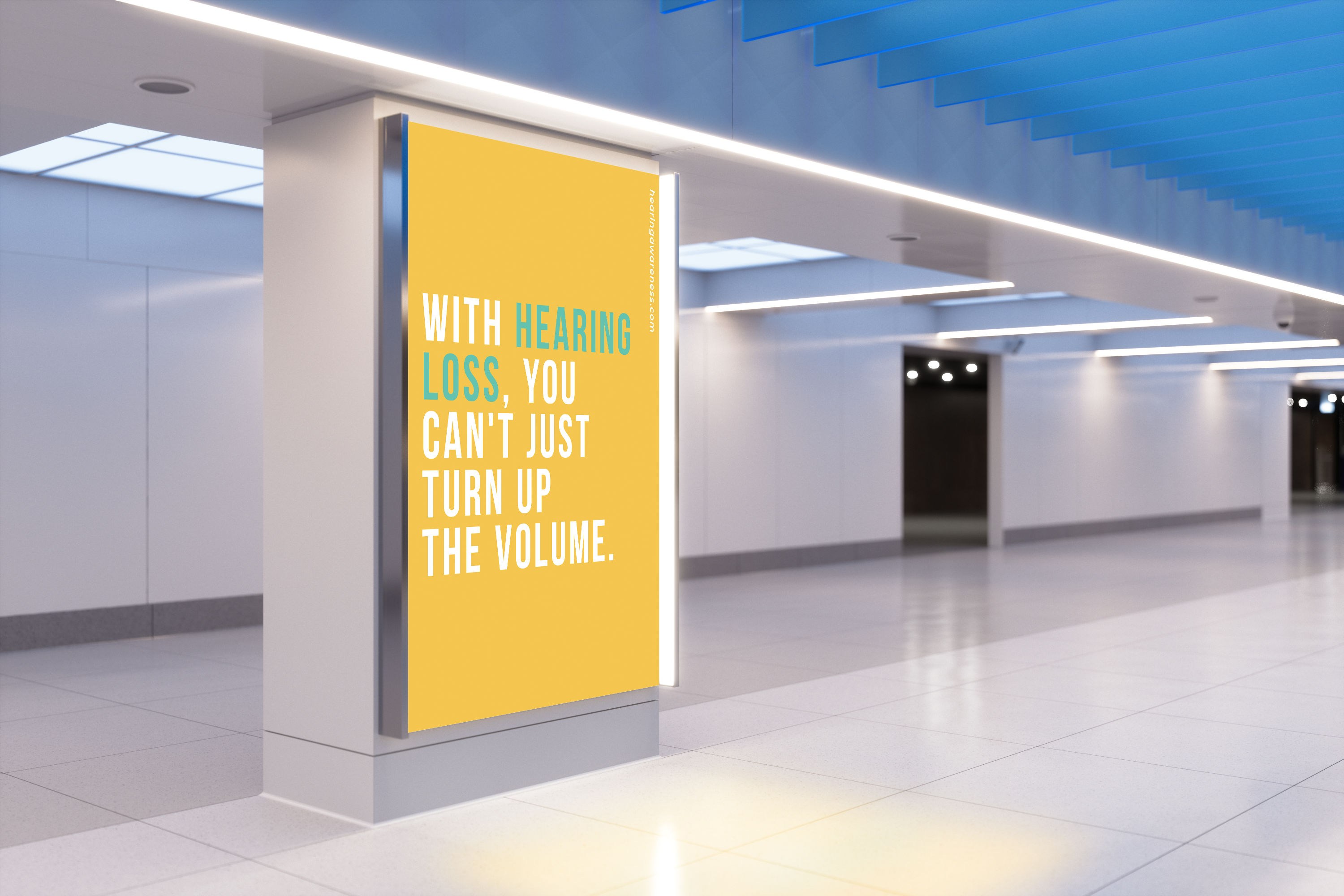 THESE NEXT TWO POSTERS WERE MADE FOR A TOTAL OF FOUR POSTERS. THEY GIVE THE VIEWER A VISUAL UNDERSTANDING OF WHAT IT IS LIKE TO HAVE HEARING LOSS, AS WELL AS CAUSES THEM TO PONDER THE LONG-TERM EFFECTS OF HEARING LOSS.

THE SECOND PART WAS A DIGITAL INTERACTIVE AWARENESS CAMPAIGN IN WHICH THE USER COULD INTERACT WITH A SCREEN IN AN OUTDOOR PUBLIC LOCATION SUCH AS A MALL, UNIVERSITY, BUS STOP, ECT.
HEADPHONES WOULD BE SUPPLIED FOR THE USER TO BETTER HEAR THE SOUND. THIS PART OF THE CAMPAIGN SIMULATES WHAT IT IS LIKE TO HAVE TINNITUS AND HEARING LOSS, AS WELL AS RAISES THE TOPIC OF HEARING LOSS IN ADOLESCENTS AND YOUNG ADULTS.
THE WEBSITE AT THE END OF THE INDIVIDUAL CAMPAIGNS ADD A FURTHER SCOPE FOR THE CAMPAIGN WITH A POSSIBLE WEBSITE, SOCIAL MEDIA AND APP.