Adrian Liuzzi
s3842825
@adrian.liuzzi
An intergration that allows users to support an artist in a convenient way while listening to their music instantly.
Intention

Rhythm intended to create a way that a wider audience of people can support their favourite music artists.
Either if it's a popular mainstream artist or a rising artist trying to make a name for themselves.
Having a way that people can show instantly either by donating or conveniently purchasing something.
Also on the flip side, this can help an artist and can be used as a marketing approach.
Truly represent who they are as an artist in an aesthetic approach.


Walkthrough Of The Experienc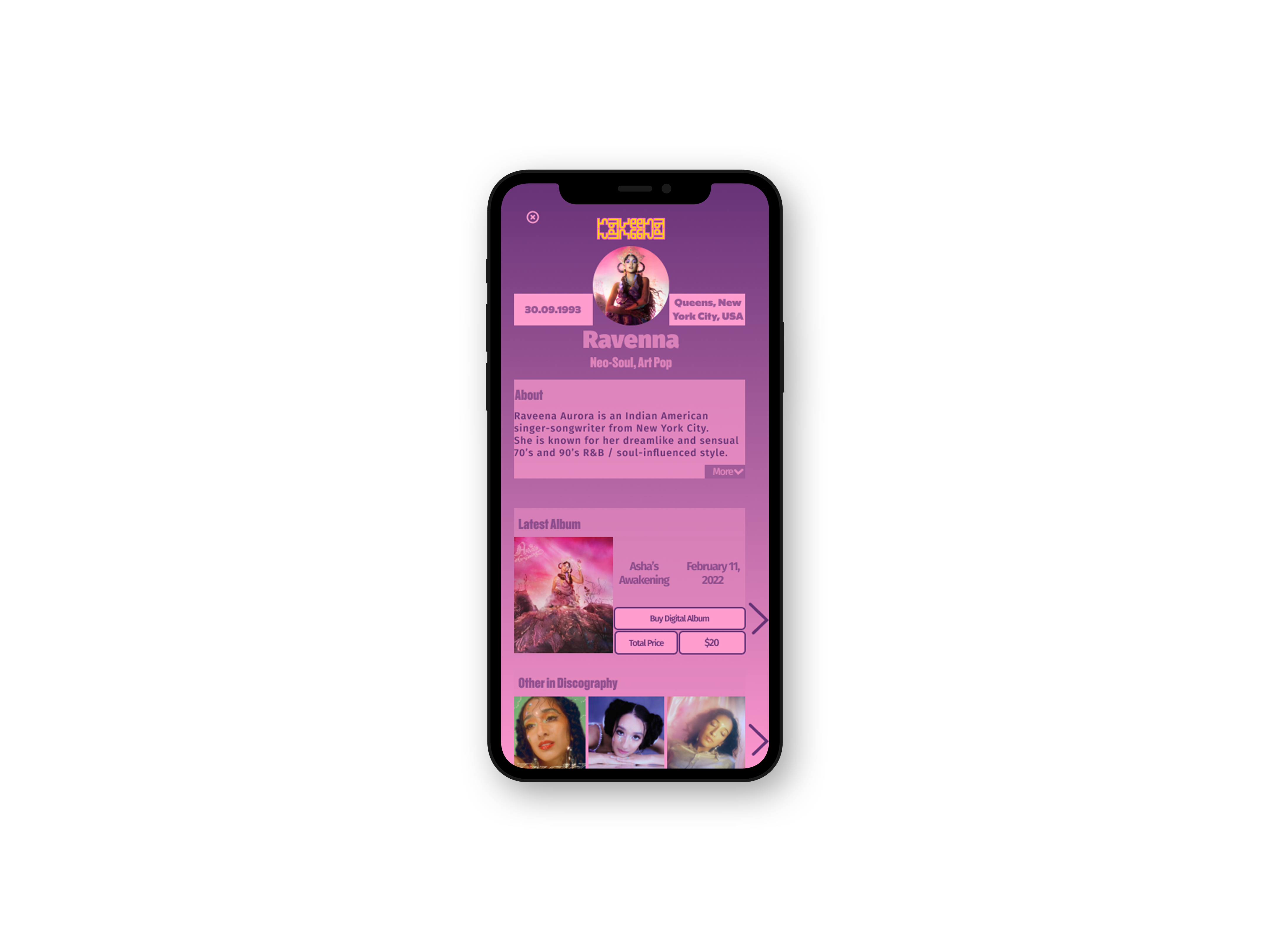 Starting Screen


The user would enter the Rhythm experience by clicking on the distinct button which enters the integration.

Home Screen


The user has entered the main home screen. Depending on the artist you listen to. This section includes a brief biography, the latest album, concert and merchandise they sell.
These elements encourage the user to explore the artist and show some support.

About Section

The user has the opportunity to understand the background and develop knowledge of the artist they are listening to currently. Through reading the information, the aim is to hope to develop a newfound appreciation and understanding of sources of information they may not have known.

Concert Section


The user will be allowed to purchase tickets to upcoming shows from the respectable artist they are listening to. The intention was to allow the user to convince and be drawn by the artist's music that they would compulsively purchase tickets to one of their shows
in respect of support.



Merchandise Section

Have you ever wanted to purchase merchandise from your favourite artist? Well now you can, as you, the user will be able to purchase vinyls, cassette tapes, shirts, sweatshirts and much more.
Process of Purchasing An Song
Here is the process that you the user will undertake when purchasing a song. The user will have full control and can go through each track on the album. Ultimately decide which song they want to purchase. Once you add it to the cart, the user will be redirected to the purchasing screen. When they can put their details in. In the end, the user will receive a prompt saying they purchase the song and can download or immediately appear on their preferred music streaming platform.
Reward System
Demonstration of Rhythm
Rhythm has a reward system for users who use the integration. For every song you purchase, you obtain XP. And as a user you a ranked amongst your friends and other users. Each time you level up, there is a certain level that rewards you with a prize. The users will be able to claim their prize reward as their contribution to donating and supporting their artist makes them feel a happy customers in the end.